To many of you, the idea of eight hours of sleep a day may seem absurd and decadent. Even one hundred years ago, however, when we began to become industrialized, the average American was getting nine hours of sleep a night. Then light bulbs were developed. We are now down to six and one-half to seven hours of sleep a night on the average, and this is not adequate for most people. In addition, the quality of our sleep has suffered.
I discussed above how stress can cause hypothalamic suppression and therefore increased thirst. Your hypothalamus also controls your ability to sleep and your hormonal system. As stress increases in our society (along with the use of caffeine and other stimulants), insomnia and inadequate sleep have become epidemic. Inadequate sleep then causes fatigue, "brain fog," immune suppression, and general irritability.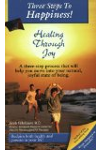 More About this Book
Three Steps to Happiness! Healing Through Joy
Happiness is our natural state of being. It is who we are. This happiness is obvious when you look at little children before they take on society's beliefs. Their natural state is to feel all of...
Continue Learning about Sleep Basics