In one famous study, Eve Van Cauter, PhD, at the University of Chicago, put healthy young men onto a program of sleep restriction, allowing them only four hours of sleep per night. After 11 nights of short sleep, these men developed problems processing glucose. Many people have read this evidence to mean that sleep regulates our blood sugar and that sleep loss leads to diabetes. However, it's too early to reach such dramatic conclusions. For one, it's possible that the stress of taking part in a study, not the sleeplessness itself, produced the physiological changes. Second, the study looked only at young men. It doesn't tell us anything about how women or middle-aged subjects respond to sleep restriction. Finally, and most important, there are very few people who sleep only four hours per night for 11 nights in a row. What about people who cut their sleep short for just a few nights at a time? Or people who regularly sleep seven or six or five hours? The study also doesn't tell us what happens when people get more than four hours of sleep but less than the much-hyped requirement to get eight.
Researchers in Sweden surveyed a sample of about 1200 adults, asking questions about their health and sleep patterns. Twelve years later, they repeated their examinations to determine which people developed diabetes. They found that men sleeping 5 or fewer hours nightly had a nearly 3 times greater risk of developing diabetes. Men reporting difficulty staying asleep were almost 5 times more likely to develop diabetes. Interestingly, women with sleep problems did not have a higher risk for developing diabetes. The researchers noted that, in general, men seem to be more susceptible to general health problems with sleep disturbance than women. A similar study of over 1500 men followed for about 16 years in the United States likewise found that men sleeping 6 or fewer hours nightly were twice as likely to develop diabetes. In their survey, those men with excessive sleep (over 8 hours nightly) also had a higher risk of becoming diabetic.
Among people who have diabetes, sleep deprivation has been linked to poorer blood sugar control. Furthermore, diabetics with a higher sleep debt are more likely to have major diabetes complications, such as diseases of the peripheral nerves, retina, kidneys, or heart. So maintaining a good sleep pattern may be an important step to getting and keeping your diabetes under better control.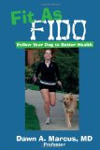 More About this Book
Fit As Fido: Follow Your Dog to Better Health
Let your dog teach you to live a happier, healthier, and more fulfilling life! Companionship with your pet can be used as a means and a motivator to increase your own physical and mental fitness....
Continue Learning about Sleep Basics