To help improve your sleep patterns, make it a habit to begin to dim the lights in your house and lower volume of radios and televisions about one hour before your scheduled bed time. You may also wish to put a dim light on a timer to turn on about 30 to 60 minutes before you want to get up each morning, so your brain has time to prepare for waking up before the alarm blares.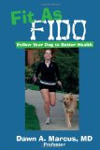 More About this Book
Fit As Fido: Follow Your Dog to Better Health
Let your dog teach you to live a happier, healthier, and more fulfilling life! Companionship with your pet can be used as a means and a motivator to increase your own physical and mental fitness....
Continue Learning about Sleep Basics