If you've been feeling really zapped lately, take this mini-quiz:
When's the first time you feel tired during the day?
a. When I wake up, even after sleeping a full 8 hours every day for a week.
b. Morning, or at the latest mid-afternoon.
c. Whenever I move.
d. Late afternoon.
e. Whenever I have to deal with my boss.
f. Not until after a day of working 12 hours or more.
Results: If you answered anything other than F, it could be a sign that the energy systems in your body are either slightly or completely out of whack - causing you to tire even at times when you should feel vital and energized.
Ask anyone who's ever succeeded on a diet or similar change-your-life health plan about the benefits, and they typically say the same thing. Some may say that their clothes fit better. Some may say that their sex life got hotter. And some may even say that with every footstep the world's seismographs got quieter. But you know what almost all of them say when you ask them the biggest change they felt? More energy.
Yep. Stronger, zippier, peppier. Happier. With a "can do" attitude and enough confidence to conquer the world. Oftentimes, people in that scenario have a hard time explaining what more energy really means - except for the fact that they feel better getting up and going rather than lying down and snoring. But that key phrase - more energy - lies at the heart of what feeling beautiful is all about.
You can be in the best relationship in the world and have celestial-quality facial features, but if you'd rather lie on the couch watching 12 hours of trashy reality shows than moving, living, loving, and passionately doing, then, well, your life may feel about as satisfying as a one-bean dinner.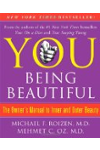 Continue Learning about Sleep Basics