There are plenty of pill pushers these days in the sleep department. From over-the-counter remedies to prescriptions marketed as non-addictive and safe, sleep aids are a gigantic industry. Choosing to go that route is totally up to you, but be aware of the potential downsides, including those related to energy metabolism. Modern sleep medications are not all they are cracked up to be. They may not be as chemically addicting as earlier generations of sleep drugs, but they can be psychologically addicting. What's more, they can prevent you from reaching the farthest reaches of deep sleep for long enough to reap all of its rewards. They may also make you groggy or feel hung over the next day.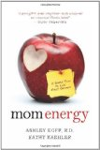 More About this Book
Mom Energy: A Simple Plan to Live Fully Charged
       From celebrated dietitian Ashley Koff and fitness trainer to the stars Kathy Kaehler comes Mom Energy, an exciting new way for moms to tap into their own natural and renewable sources of...
While sleeping pills can help us fall and stay asleep, it is known that these medications do not allow the body to fall into the deep phases of sleep that allow for the best health benefits sleep can give us. It is also well known that all of these medications have the risk of dependence and withdrawal effects, which can make them hard to stop using.

Most alarmingly, a large study of 30,000 people found a 300% increase in death in people who took fewer than 18 sleeping pills a year. Higher doses were linked to a greater than 500% increase in death. The authors of this study concluded that these sleeping drugs "may have been associated with 320,000 to 507,000 excess deaths in the USA alone."
Continue Learning about Sleep Aid