Sleep aids are taken to help with sleeplessness or insomnia. Types of sleep aids include antihistamines, melatonin, and valerian. Most sleep aids tend to cause drowsiness or regulate the body's internal clock. Additionally, there are many home remedies that you should try before you begin taking sleep aids. These home remedies include sleeping in a dark, quiet room, relaxing, and going to bed at the same time each day. You should avoid wine, liquor, beer, nicotine, caffeine, large meals, exercise, and naps within six hours of going to sleep.
Over-the-counter sleep aids can come in several varieties, though most are either some form of antihistamines or a pain reliever combined with an antihistamine. Often these compounds simply make many people feel "fuzzy headed" and do not induce sleep itself but rather relax people to the point of falling asleep.
Over-the-counter sleep aids are readily available to help alleviate sleep problems in the short term. Many contain antihistamines with sedative effects. Antihistamines are central nervous system suppressants and may have a carryover effect the next morning, potentially causing short-term memory problems, confusion, and headaches. It is important that sleep aids be used according to directions and not taken with alcohol or other drugs with sedating effects such as tranquilizers.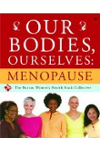 More About this Book
Our Bodies, Ourselves: Menopause
FROM THE EDITORS OF THE CLASSIC "BIBLE OF WOMEN'S HEALTH," A TRUSTWORTHY, UP-TO-DATE GUIDE TO HELP EVERY WOMAN NAVIGATE THE MENOPAUSE TRANSITION For decades, millions of women have relied on Our...
Continue Learning about Sleep Aid