After massive weight loss, loose skin can appear all over the body, under the arms, on the outside of the breasts, and under the armpits, not to mention that the breasts will probably sag significantly. Many patients complain that the skin on their abdominal area becomes very loose, with massive amounts hanging down toward their thighs and interfering with exercise.

They may also experience loose skin around their thighs, both on the inner and outer thighs.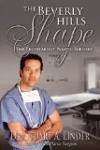 When you lose a lot weight there is that possiblity of having lose skin. Unfortunately your skin can't shrink back to its normal size so quickly when you lose so much. You are better to lose the weight slowly to allow your body to adapt to the changes so you don't have so much loose skin. Unfortunately, losing so much weight so quickly loose skin is a side effect.
That depends on several factors.
How much weight is a lot?
Genetics.
The time it took to lose the weight.
You are NOT doomed to lose skin. I lost over 100 pounds and was able to keep my skin intact, no surgery needed. The things to focus on are:
Set realistic weight loss goals, 1-2 pounds per week.
Watch your hydration, aim for 3 liters of water a day minimum
Eat lean to get lean. Focus on the nutritional content of food and don't fall for FAD diets. Aim for balance in your diet.
Add strength training. Training with resistance in the form of weights, bands or even body weight can increase collagen in the skin and help it draw back to the muscle.
Experiment with different forms of fitness. Heavy weights are great, but try lighter weights with a variety of angles that cannot be achieved safely through heavy weights. If you're a runner, try some kickboxing every once in a while. Switch it up to keep the skin coming back :)
Steer clear of sugar! Sugar is the #1 substance I have noticed that causes the skin to sag more. It really offers zero nutritionally, so opt for natural sweetness and forego the fake stuff too.
For more visit: www.michellecfitness.com
Continue Learning about Skin Tightening Treatments