Peels have been popular for two decades; more than 1 million people had them in this past year alone. They range from "lunch-hour" peels, which have subtle effects at best, all the way to laser peels, which vaporize your skin and leave you looking like someone in a Schwarzenegger movie. All peels wound the skin. The deeper the wound, the more profound the effect. Peels take advantage of your body's response to injury—your skin heals by shrinking and tightening. Peels will remove anywhere from the dead superficial layers of cells (glycolic acid) to the mid-dermis (phenol).

The appeal of the glycolic peel is not to peel (whew!). Your doc will gradually increase the concentration of the glycolic acid and the time it is applied to your skin. This lets your skin acclimate to the chemical. By the time you're on the fourth monthly peel, your new superskin will be able to handle much higher concentrations—and that's when you'll start looking like you're ready for your close-up. Your skin will look refreshed, and your tone will improve. Acne often improves, and your skin's collagen may actually thicken. The advantage of the lunch-hour peels, of course, is that you won't miss more than an hour of work. But many people give up because the effects are so subtle and take months to be seen.

One mid-level peel using the chemical TCA (trichloroacetic acid, for you budding chemists) will give you the results of at least six consecutive monthly glycolic peels. The effects of TCA peels are striking, particularly if your face is troubled by splotchy brown pigmentation. You need to prepare your skin with vitamin-A creams and pigment reducers to thin the layer of dead cells and even out tone before this peel, and get ready for some pain. This half hour is not for the faint of heart or, for that matter, anyone with heart problems.

If your face looks like a moonscape or a desert with ripples, don't waste your money on those pansy peels. You need industrial-strength peeling—a laser or a phenol peel. These procedures blast off the epidermis and part of the dermis, leaving you looking like a weeping pumpkin. Order up two weeks worth of DVDs and a lot of popcorn made with olive oil. But as your weeping face gradually heals, those wrinkles will shrink wrap away, leaving your face looking years, sometimes decades younger. Along with your wrinkles, invisible early skin cancers can also be blasted into oblivion.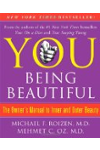 Continue Learning about Skin Rejuvenation Treatments