Wintertime is hard on skin. When the air becomes cold and dry and the heat is turned on indoors, skin becomes dry. Activities and products that may not normally irritate skin in other seasons can result in skin drying and irritation.

The fingers, especially around the nails, are vulnerable to winter weather. Skin can become rough and red, and cracks can develop that are quite painful. Frequent hand washing can lead to "hand eczema" (skin inflammation), especially if you use strong soaps or your hands are in dish detergent water without the protection of rubber gloves. Perfumed lotions can also cause irritation.

To protect your hands, use a mild, unscented soap for washing hands and an unscented moisturizer afterwards. Apply white petroleum jelly (Vaseline) or Bacitracin ointment to cracks in your fingers. For excessively dry hands, apply moisturizer or Vaseline at night to your hands and cover your hands with white cotton gloves. For reddened, irritated skin, hydrocortisone cream can be helpful. You can buy this without a prescription.

If irritation does not go away, see your doctor. He or she may be able to prescribe creams or ointments to help.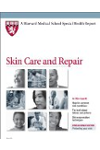 More About this Book
Harvard Medical School Skin Care and Repair
Where can you get authorotative advice on skin care? There's plenty of advice out there on TV, the internet and in the aisles of stores peddling skin care products. Despite the abundance of products...
To protect against dry skin during winter prevention is best. As soon as the season starts to change apply a moisturizer on your hands and lips several times a day. Good moisturizers are not greasy and contain a special type of lipid called ceramides, along with fatty acids and even cholesterol. Don't be offended by fats and cholesterol -- unlike inside your arteries, on your skin they are good for you.

If you do wind up with dry skin, step up the frequency of your moisturizer, and increase the humidity of your house. An inexpensive and healthy way is to fill your home with houseplants.
Continue Learning about Skin Moisturizing