What treatments can reduce the appearance of scars?
There are several medical procedures available to help reduce the appearance of scars:
Laser Surgery & Resurfacing - The redness of scars may be
reduced by treatment with a vascular laser. It has been
theorised that removing layers of skin with a carbon dioxide
laser may help flatten scars, although this treatment is still
experimental.
Steroid injections - A long term course of steroid injections under
medical supervision, into the scar may help flatten and soften
the appearance of keloid or hypertrophic scars. The steroid is
injected into the scar itself; since very little is absorbed into
the blood stream, side effects of this treatment are minor. This
treatment is repeated at 4-6 week intervals.
Pressure garments - These should be used only under
supervision by a medical professional. They are most often
used for burn scars that cover a large area, this treatment is
only effective on recent scars.
Radiotherapy - Low-dose, superficial radiotherapy, is used to
prevent re-occurrence of severe keloid and hypertrophic
scarring. It is usually effective, but only used in extreme cases
due to the risk of long-term side effects.
Dermabrasion - Dermabrasion involves the removal of the surface
of the skin with specialist equipment and usually involves a
general anaesthetic. It is useful with raised scars, but is less
effective when the scar sunken below the surrounding skin.
Collagen injections - Collagen injections can be used to raise
sunken scars to the level of surrounding skin. Its effects are
however temporary, and it needs to be regularly repeated.
There is also a risk in some people of an allergic reaction.
Other treatments - There are also a number of gel sheets available
which are usually made from silicone, which can help to flatten
and soften raised scars if worn regularly. Silicone, pressure,
occlusion, topical cortisone and vitamin E have all been shown
to decrease the collagen that forms scars. Patches and pads
help but are unsightly so people tend to quit. A popular
treatment among plastic surgeons is Scarfade, a silicone gel
that improves the appearance of scars and prevents abnormal
or excessive scar formation. Also chemical peels performed by
a dermatologist using glycolic acid can be used to minimize
acne scarring.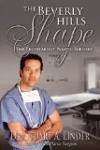 Continue Learning about Skin Injury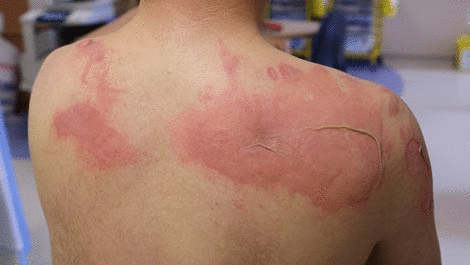 Not all skin injuries are cuts and scrapes. Heat, friction and pressure can cause skin injuries like burns, sunburn and blisters. A burn is a traumatic skin injury caused by a heat source like scalding liquid or a hot pot, a radia...
tion source like the suns rays, an electrical source like open wiring or a chemical source like acid. Depending on the severity of the burn, treatment can include wound care and pain management, skin grafting, intravenous fluids or cosmetic surgery. Some burns can form blisters, which actually act as a protective, fluid-filled buffer for damaged skin. Blisters also form from skin conditions like eczema and friction sources like ill-fitting shoes. Keeping the area clean with antibiotics and a dressing or bandage is usually enough to heal a blister.
More