Are there any foods that can help my wound to heal?
Having a wound puts extra demands on your body. It's especially important to eat a healthy diet while you're healing. Every day try to eat foods from a variety of sources that include the following:
Carbohydrates supply the energy your body needs to heal.
Good choices include:
Whole grain breads and cereals
Potatoes, rice or pasta
A variety of fruits and vegetables
Foods with vitamin A, such as bright orange fruits and vegetables and dark green leafy vegetables
Foods with vitamin C, such as citrus fruits, peppers, tomatoes, strawberries, cantaloupe and broccoli
Protein provides building material for muscle and skin repair.
You need to eat at least two servings of protein (3 to 4 ounces each) every day. Good sources include:
Any lean animal protein, such as beef, pork, poultry or fish
Dried beans, peas, lentils and tofu
Nuts, peanut butter and seeds
Cottage cheese or cheese
Milk and dairy products are good sources of carbohydrates and protein.
Unless your doctor says not to eat dairy, be sure to include at least three servings per day. One serving of milk or yogurt is one cup. Soy milk can be substituted for regular milk.
Water replaces fluid lost with draining wounds.
Make sure you drink at least 6 to 8 cups of liquids each day, unless your doctor tells you not to.
Be sure to get enough healthy foods.
Here are some ideas that may help to promote wound healing:
Eat smaller meals more often. It may be easier to eat six small meals per day rather than three larger meals.
Eat healthy snacks. You can help get the nutrition you need by snacking between meals on healthy snacks such as cheese and crackers, cottage cheese and fruit, mixed nuts or trail mix, half a sandwich and a small piece of fruit, or peanut butter and sliced apples.
Ask your doctor if you should take a nutritional supplement. If you're still having trouble getting the nutrition you need to help you heal, talk with your doctor about using a nutritional supplement. A daily multivitamin can help if you're not eating at least five servings a day of fruits and vegetables every day. A nutrition supplement can help if you're not able to get enough protein and calories.
If you need further help getting enough calories and protein in your diet, contact a dietitian. Your healthcare providers can help you find one. Some people need to follow special diets for specific medical conditions. Ask your healthcare providers about good food choices for you.
Nurse Midwife Paula Greer discusses a specific food that can help wounds to heal. Watch Paula Greer's video for tips and information on nursing and overall health.
To promote wound healing it is important to consume high protein foods (such as chicken and fish), vitamin, minerals, antioxidants (fruits, vegetables), adequate source of energy (whole grains), and fluids. Protein (only nutrient that provide the body with nitrogen) play an important role in the synthesis of enzymes and is required for all stages of wound healing. In order for the body to spare protein for buildup and repair, we must first meet our caloric needs.
Continue Learning about Skin Injury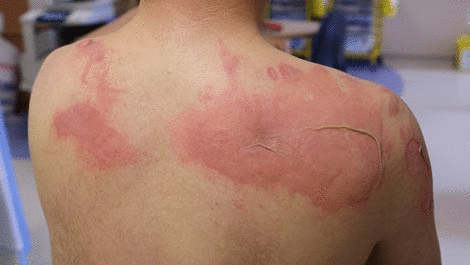 Not all skin injuries are cuts and scrapes. Heat, friction and pressure can cause skin injuries like burns, sunburn and blisters. A burn is a traumatic skin injury caused by a heat source like scalding liquid or a hot pot, a radia...
tion source like the suns rays, an electrical source like open wiring or a chemical source like acid. Depending on the severity of the burn, treatment can include wound care and pain management, skin grafting, intravenous fluids or cosmetic surgery. Some burns can form blisters, which actually act as a protective, fluid-filled buffer for damaged skin. Blisters also form from skin conditions like eczema and friction sources like ill-fitting shoes. Keeping the area clean with antibiotics and a dressing or bandage is usually enough to heal a blister.
More