Beauty Prep-School for Fall
It's like there's something in the air every autumn that makes you itch to shape up your looks. Here are two easy ways to start, even if you're not part of the back-to-school crowd:
Body Confidence 101—If you're not already drinking OJ that's fortified with vitamin D and calcium, fall is the season to switch. As daylight hours become scarce, and eating at your desk replaces summer's al fresco lunches, it's way too easy to run low on D—which in this case also stands for Domino Effect. Here's why: Your body needs sunlight to make vitamin D, and it needs D to utilize calcium, and it needs calcium to build bones. Lack of D equals thin, brittle bones. And there's nothing beautiful about a cast or painful back, my friend. Not a juice fan? The same bone goodies, minus the vitamin C boost, are in fortified milk or a calcium + D supplement.
Snap Course in Weight Loss—Every time you hit the grocery store, bag a fresh supply of crisp apples and sweet pears. They never taste better than now, and they're high in fiber, jammed with vitamins, low in calories, and more portable than squishy bananas.
But you knew that. Here's the surprising part: Dieters who eat a small apple or pear before each meal lose more weight than people who eat the same meal minus the fruit appetizer. So if you're fighting a few extra pounds, become a frequent fruit eater. It's a beautiful thing.
Pick up personalized beauty pointers with the Sharecare Skin Care Assessment.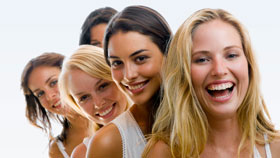 Your skin, hair and nails say a lot about your health – and how you feel about yourself. But with so many mixed messages out there, it's easy to forget what real healthy beauty means. Give your attitude a reality check here, and l...
earn tips from the pros on how to feel and look your best.
More