The best facial cleansers for dry skin are those that are gentle and won't strip oil from the skin, as some soaps can. Your dermatologist may suggest using a mild soap that is fragrance free or a moisturizing non-soap cleanser. Skip the deodorant bars and antibacterial soaps, which can dry out your skin.

Because water can strip skin of moisture, try not to bathe more than once a day, and use warm—not hot—water. Apply moisturizer while your skin is still damp.
Remember that, for you, using warm water and a washcloth can be enough to clean your face. Dry skin lacks excess oil on the stratum corneum, so the worst thing you can do is use a strong detergent or soap. You want less soap and more moisturizer. Try using a cleanser with an extra-gentle surfactant such as polysorbate 85 or 60, cocamidropropyl betaine, or caprylic acid, and make sure it has added humectants and emollients. Humectants, such as glycerin and hyaluronic acid, attract water and help the skin retain it. Occlusive emollients, such as squalene and coconut oil, are lubricating, waxy thick ingredients that hold moisture on the skin. Look for formulations such as creamy lotion or cleansing milk. You're also a great candidate for a cold cream cleanser, a cleansing oil, or a balm; they basically act on the same gentle cleansing principle.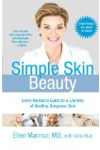 Continue Learning about Skin Disorders