At first, a pityriasis rosea rash appears as a small pink or rose-colored discoloration if your skin is light-colored. On dark skin, the color of the rash may be less pronounced or appear gray or violet. This early rash, sometimes called a herald patch, is usually no more than four inches in diameter. Eventually, though, pityriasis rosea can spread and create oval-shaped patches all over the body. These patches of skin may feel scaly. People who have pityriasis rosea often develop a rash on their back in the shape of a Christmas tree.

Talk to a dermatologist or other doctor if you have questions or concerns about pityriasis rosea.
The pityrisiasis rosea rash typically looks like a pine tree or christmas tree.



Pityriasis rosea starts with a circular rash on the torso. It can be flaky, itchy, and pinkish or even brown or grey. One of the signs that this rash is pityriasis rosea and not another skin disease is how it spreads in the following weeks. Pityriasis rosea generally spreads to the rest of the body in the form of spots that are also itchy and pink-toned. They may spread from the backbone out to the sides of the body in a distinctive Christmas-tree pattern, and can even extend to the arms, legs, and face.
Continue Learning about Skin Disorders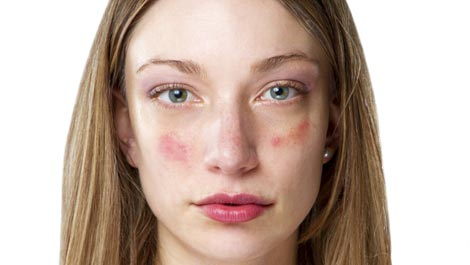 Skin disorders affect people of all ages. Rashes, cysts, breakouts, redness and blisters all can be symptoms of conditions as varied as hives, rosacea, psoriasis, eczema and acne. Talk to your doctor or a dermatologist about any l...
asting symptoms to find the appropriate treatment. A doctor also can recommend the proper therapy for conditions like brown spots, spider veins, and fungal infections.
More