Chronic scratching or rubbing of the skin gives it a thickened, leathery appearance, sometimes reddened or even a little scaly, and may leave visible scratch marks or broken hairs.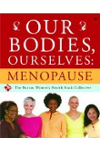 More About this Book
Our Bodies, Ourselves: Menopause
FROM THE EDITORS OF THE CLASSIC "BIBLE OF WOMEN'S HEALTH," A TRUSTWORTHY, UP-TO-DATE GUIDE TO HELP EVERY WOMAN NAVIGATE THE MENOPAUSE TRANSITION For decades, millions of women have relied on Our...
Lichen simplex chronicus causes skin to become very itchy. As the name of this condition suggests, the problem may become chronic -- that is, it may last a long time. Persistent scratching may eventually cause the skin to become thick and leathery, darken in color, and develop sores. If you think you may have lichen simplex chronicus, see a dermatologist soon.

Continue Learning about Skin Disorders