Vulvar lichen planus is a condition that causes pain, burning, and itching in the female genitals. Lichen planus is the name for a common disorder that produces a rash of bumps on the skin. When this skin condition affects a woman's genitals, it is called vulvar lichen planus. Many women who develop vulvar lichen planus have pain severe enough to make sexual intercourse impossible. See a doctor if you suspect you may have vulvar lichen planus.

Lichen planus is an inflammatory skin disease that most commonly causes an itchy rash of small purplish bumps, often on the arms, legs, or back or inside the mouth. It can also affect the genital area, including the vagina. Many women with vulvar lichen planus also have the disease in the mouth.
The cause of lichen planus is unknown. We know that it is not caused by infection, hormonal change, or aging. It is probably autoimmune in origin. Certain medications (such as hydrochlorothiazide) may contribute to the development of the disease.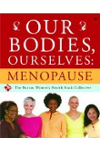 More About this Book
Our Bodies, Ourselves: Menopause
FROM THE EDITORS OF THE CLASSIC "BIBLE OF WOMEN'S HEALTH," A TRUSTWORTHY, UP-TO-DATE GUIDE TO HELP EVERY WOMAN NAVIGATE THE MENOPAUSE TRANSITION For decades, millions of women have relied on Our...
Continue Learning about Skin Disorders