Granuloma annulare is a chronic skin condition of the dermis(2nd) layer of skin. It is usually self-limited and often does not require treatment. However, topical steroids, intralesional steroids, liquid nitrogen, or photochemotherapy may be used to manage the condition. It may last months to years. It disappears in 75% of people within two years. Recurrences are common but are also self-limited. Lesions are palpable, non-scaling, and occur in "rings". Granuloma annulare does not usually cause any symptoms. It often occurs on the back surface of the hands, the elbows, and knees. It may consist of a singular ring or become generalized. Lesions may acquire a red or brown tint. Females are twice as likely as males to have granuloma annulare. Onset typically begins in childhood or young adulthood. Although the cause is unknown, generalized lesions may be indicative of diabetes. The lesions of granuloma annulare may be misdiagnosed as other conditions that also occur in a ring pattern such as ring worm. Granuloma is often diagnosed with history and physical alone or by dermatopathology.
Granuloma annulare is a benign skin condition that may be mistaken for ringworm or an insect bite. Tiny flesh-colored, purple or pink bumps form ring-like circles, commonly on the backs of the hands, feet, elbows or knees. Alternatively, there may be patches of raised, pink skin or numerous pink papules. Unlike ringworm, there is no scale and seldom any itching.

The granuloma annulare lesions may remain for a couple of years, then disappear, or reappear on another area. No one knows the cause of these lesions, but it is thought that they are a result of an immune-type reaction of the skin. Some doctors have speculated an association between granuloma annulare and diabetes, but such association has not been proven.

Granuloma annulare occurs more often in females than in males. The lesions are harmless and require no treatment unless there are cosmetic concerns. In such case, your doctor may consider injections of steroids into the lesions or treatment with liquid nitrogen. Topical creams are usually of little help.

It is important to have a physician confirm granuloma annulare, since other conditions, such as fungal infections, tick bite reactions and skin cancers can have a similar appearance and would require different treatment.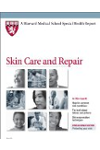 More About this Book
Harvard Medical School Skin Care and Repair
Where can you get authorotative advice on skin care? There's plenty of advice out there on TV, the internet and in the aisles of stores peddling skin care products. Despite the abundance of products...
Continue Learning about Skin Disorders