Actinic keratosis consists of scaly, reddish-brown precancerous lesions that usually appear on areas of the body exposed most to the sun, such as the face, arms, legs, neck, and upper chest and back. The lesions are usually painless but may itch.

Because about 10% of these lesions may progress and transform into skin cancers, they should be diagnosed, evaluated, and monitored by a healthcare provider.
The development of actinic keratoses is an early warning sign of severe sun damage. Most common in people over age 40, this precancerous condition develops as a result of cumulative, extensive sun exposure and can lead to skin cancer, specifically squamous cell carcinoma. Actinic keratoses are responsible for more than 2 million visits to dermatologists each year in the United States. These lesions appear as scaly red/brown bumps on the face, ears, neck, lips and forearms or on the backs of the hands. These lesions may itch or feel tender, especially when exposed to sunlight.
Actinic keratoses are rough, scaly areas on skin that often feel like sandpaper. They are found on areas of the body exposed to the sun. They are precancers, which mean they could turn in to squamous cell skin cancers if they are not treated.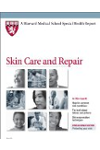 More About this Book
Harvard Medical School Skin Care and Repair
Where can you get authorotative advice on skin care? There's plenty of advice out there on TV, the internet and in the aisles of stores peddling skin care products. Despite the abundance of products...
Actinic keratosis are dark, rough patches of skin commonly seen in older individuals in chronic sun exposed areas such as the hands and face. It is more common in people with light or fair skin tones. Actinic keratosis should be treated by a health care provider due to an increased risk of developing into squamous cell skin cancer.
Actinic Keratosis is considered to be the very earliest stage of skin cancer and it can result from years of repeated exposure to the sun. The symptoms of actinic keratosis include dry, rough, and scaly patches on your scalp. While it is easy to prevent by simply wearing sun block and/or hats when it is appropriate, once you develop pre-cancer you will need close dermatologic supervision to monitor its progress. Actinic keratosis has the capability of turning into a fatal skin cancer called squamous cell carcinoma.
Continue Learning about Skin Disorders