Dry skin has almost invisible pores and can look dull, scaly, flaky, or rough. Sometimes cracks may appear on very dry skin, and they may become so deep that they bleed. Dry skin can occur anywhere on the body and is more noticeable with age. You may notice fine lines with dry skin and have itching or a pulling sensation if the skin is extremely dry. Consult a dermatologist if the dry skin becomes irritated or red, or if the skin peels. Taking good care of skin everyday by using a mild cleanser and moisturizer can help to keep dry skin at bay.



Dry skin may itch, flake, peel, or scale. Watch the animation to learn about mild dry skin, including prevention and simple treatment.



Continue Learning about Skin Disorders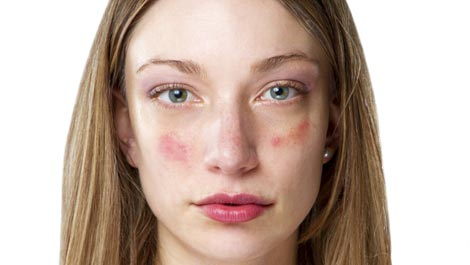 Skin disorders affect people of all ages. Rashes, cysts, breakouts, redness and blisters all can be symptoms of conditions as varied as hives, rosacea, psoriasis, eczema and acne. Talk to your doctor or a dermatologist about any l...
asting symptoms to find the appropriate treatment. A doctor also can recommend the proper therapy for conditions like brown spots, spider veins, and fungal infections.
More