Pus-filled sores that break open and crust are usually caused by bacteria that get inside pores. As the bacteria grow into pus-filled pimples, the pimples eventually can break open, bleed, and crust over as the skin heals. Folliculitis and impetigo are causes of pus-filled sores. Herpes simplex virus (oral and genital herpes) and herpes zoster (chicken pox and shingles) can also cause blisters that eventually crust. Pustular psoriasis causes pus-filled bumps but they do not contain bacteria.
Continue Learning about Skin Disorders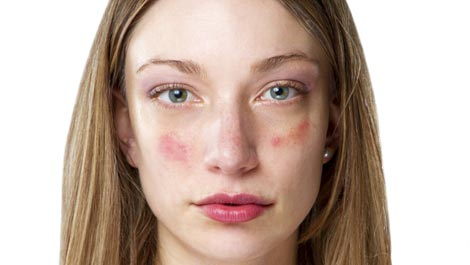 Skin disorders affect people of all ages. Rashes, cysts, breakouts, redness and blisters all can be symptoms of conditions as varied as hives, rosacea, psoriasis, eczema and acne. Talk to your doctor or a dermatologist about any l...
asting symptoms to find the appropriate treatment. A doctor also can recommend the proper therapy for conditions like brown spots, spider veins, and fungal infections.
More