If you have seborrheic dermatitis—or dandruff, as it is called in adults—try using an over-the-counter dandruff shampoo first. This shampoo may contain salicylic acid, selenium sulfide, zinc pyrithione, or coal tar. You made need to alternate dandruff shampoos for the best results.

If these over-the-counter solutions don't work, your doctor can prescribe a topical medication, such as steroid lotion that you can apply once or twice a day in combination with shampoo. Your doctor can also prescribe a steroid lotion to use on scaly skin around your ears, eyebrows, and nose.

In infants, seborrheic dermatitis is called cradle cap. Wash your baby's hair frequently with a regular mild baby shampoo. To loosen scales, gently brush your baby's scalp with a soft brush like a toothbrush. If that doesn't work, your child's pediatrician may recommend an over-the-counter medicated baby shampoo or may prescribe a stronger shampoo. If your baby has scales on his skin creases, his pediatrician may prescribe a mild steroid lotion or cream.
Seborrheic dermatitis is a red, scaly rash in oily or hair-bearing areas such as the eyebrows, creases beside the nose, hairline, scalp, and behind the ears. It is often associated with a yeast called Malassezia. Seborrheic dermatitis is found worldwide and in both males and females.

The condition is often made worse by hot, humid weather or when the seasons change. Treatment is usually with antifungal creams such as Lotrimin (clotrimazole) or Nizoral (ketoconazole).

Scalp treatment can include selenium sulfide/sulfur shampoo, zinc pyrithione shampoo, or ketoconazole (Nizoral) shampoo. While the rash may clear with treatment, the condition can come back.

If seborrheic dermatitis does not clear up, see your doctor. Certain medical conditions or medications can cause or worsen seborrheic dermatitis. In some cases, you ay need oral (by mouth) prescription medication.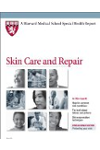 More About this Book
Harvard Medical School Skin Care and Repair
Where can you get authorotative advice on skin care? There's plenty of advice out there on TV, the internet and in the aisles of stores peddling skin care products. Despite the abundance of products...
There is currently no treatment guaranteed to eliminate seborrheic dermatitis for good - even prescription treatments are oriented towards simply managing, reducing, and controlling symptoms. The course of treatment is determined by your age, sensitivity of the skin, and where the symptoms are appearing. Treatments vary depending on where the outbreak is taking place and the spread of the affected area and include shampoo, creams, and oral medications.
Continue Learning about Skin Disorders