White patches around your rectum and anus could be caused by vitiligo. Vitiligo is a skin disorder that causes the pigment-producing cells (melanocytes) to die. Melanocytes are located in the skin and mucous membranes near the rectum. To be sure you have vitiligo and not some other skin disorder, sexually transmitted disease (STD), or infection, your doctor will examine the characteristics, location, and pattern of the patches. Your personal and family medical history, particularly regarding autoimmune diseases, will be important to know.

If vitiligo is suspected, your doctor may shine a special light called a Wood's lamp on your skin to see if the patches have little or no pigment. People with vitiligo have no pigment, so patches appear yellow-green or blue under the light. Since vitiligo is thought to be an autoimmune disease, a blood test might also be performed to measure immune-system chemicals that typically increase with autoimmune diseases. A sample of skin (biopsy) may be sent to a lab to measure melanocytes.
Continue Learning about Skin Disorders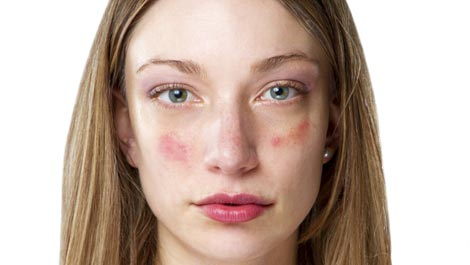 Skin disorders affect people of all ages. Rashes, cysts, breakouts, redness and blisters all can be symptoms of conditions as varied as hives, rosacea, psoriasis, eczema and acne. Talk to your doctor or a dermatologist about any l...
asting symptoms to find the appropriate treatment. A doctor also can recommend the proper therapy for conditions like brown spots, spider veins, and fungal infections.
More