Morphea is a condition characterized by skin thickening. Often the appearance of a morphea lesion is an oval patch with a faint pink or yellow appearance and a faint purplish border. Over time, the area becomes smooth, shiny, and scar-like.
Your doctor can often diagnose morphea by examination alone, but a biopsy may be needed to confirm. The skin thickening may be superficial, or may involve underlying tissues as well. Instead of an oval patch, it may look like a long, linear, scar-like depression in the skin.
Tiny cells called "fibroblasts" are responsible for producing collagen in skin. Collagen is a glue-like protein. In morphea, these fibroblasts work overtime, producing too much collagen. Possible reasons include:
Infection
Cell injury
An autoimmune process
There is no optimum treatment for morphea. The skin changes will sometimes go away on their own over time. Treatment to reduce inflammation in early morphea is more successful than attempts to decrease scarring later on. Possible treatments of early morphea include the topical use of:
Corticosteroid creams or ointments (many generic versions)
Tacrolimus ointment (Protopic, generic versions)
Imiquimod cream (Aldara, generic versions)
Light-based treatments, especially those utilizing UVA, may also be helpful.
In severe cases, oral (by mouth) steroids or methotrexate may be needed. If bone and joints are involved, surgery may be needed to release contractures (tight scars that prevent full extension of an arm or leg).
It is important to see your doctor for an evaluation of morphea and for treatment suggestions. These will vary depending upon the type of morphea you have.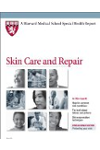 More About this Book
Harvard Medical School Skin Care and Repair
Where can you get authorotative advice on skin care? There's plenty of advice out there on TV, the internet and in the aisles of stores peddling skin care products. Despite the abundance of products...
Continue Learning about Skin Disorders