Medications treat certain types of dermatitis by relieving itching. This helps the person to stop scratching the affected area. In other cases, medications are used to clear up bacterial infections. The medication used, and how it works, depends on the type of dermatitis the person has. Ask your doctor about medications used to relieve dermatitis.
Several different medications treat dermatitis with different mechanisms and side effects.
Corticosteroids:
used to lessen swelling and allergic reactions
side effects: thin skin, infections, and slowed growth in children
side effects of oral corticosteroids: skin damage, bones that thin or are weak, high blood pressure and blood sugar, and infections
Immunomodulators:
used to help inflammation by reducing the immune system's reaction
side effects: burning and itching during shortly after first use
Antibiotics:
used to treat bacterial infections in the skin
Antihistamines:
Continue Learning about Skin Disorders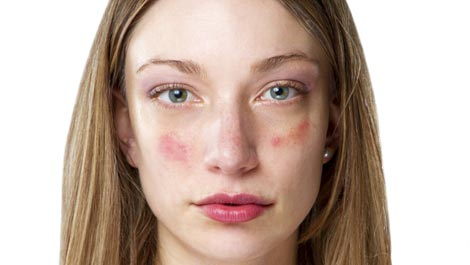 Skin disorders affect people of all ages. Rashes, cysts, breakouts, redness and blisters all can be symptoms of conditions as varied as hives, rosacea, psoriasis, eczema and acne. Talk to your doctor or a dermatologist about any l...
asting symptoms to find the appropriate treatment. A doctor also can recommend the proper therapy for conditions like brown spots, spider veins, and fungal infections.
More