Pityriasis rosea and ringworm are easily confused, but there are important differences between these two skin conditions. Both cause pink, flaky patches on the skin. Pityriasis rosea can occur on various parts of the body but most commonly appears on the chest or back. Ringworm, meanwhile, can crop up anywhere on the body, including the scalp and fingernails. Pityriasis rosea usually forms large, pink ovals, though sometimes the patches resemble Christmas trees. Ringworm, as the name implies, forms rings with healthy-looking skin in the center. Doctors treat ringworm with anti-fungal medications, which will not have any effect on pityriasis rosea. Pityriasis rosea usually goes away on its own. However, your doctor may recommend medicine containing corticosteroids to relieve itching and eliminate the rash.

Continue Learning about Skin Disorders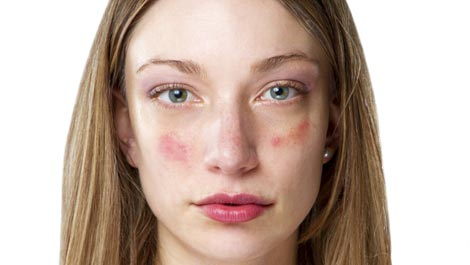 Skin disorders affect people of all ages. Rashes, cysts, breakouts, redness and blisters all can be symptoms of conditions as varied as hives, rosacea, psoriasis, eczema and acne. Talk to your doctor or a dermatologist about any l...
asting symptoms to find the appropriate treatment. A doctor also can recommend the proper therapy for conditions like brown spots, spider veins, and fungal infections.
More