The cold temperatures of winter leave the air very dry which accelerates moisture loss from the skin. Further, most heating systems leave the air in your residence very dry as well as evidenced by the static electrical shocks that you can receive when you touch metal. Dry skin is enhanced by damage to the skin's natural lipid barrier, which is responsible for keeping water in the skin. There are three primary approaches for treating dry skin in the winter. First is the restoration of the barrier lipids by the application of polyunsaturated fatty acids, ceramides and phospholipids. Second is the infusion of water into the skin through the use of materials called humectants that bind water. When applied the bound water absorbs into the outer layer of the skin making softer and more supple. Third is the application of an occlusive agent that blocks the release of water from the skin to allow it to restore its optimum level. Products created for very dry skin will include materials that perform the above functions. However, they will often use materials that have stronger properties than those found in moisturizers used for Oily and Normal Skin. One should look for products that include the following:
Barrier Restoration: Materials such as ceramides, cholesterol, lecithin and unsaturated fatty acid triglycerides (olive oil, flaxseed oil, argan oil, etc.) will help repair the barrier and relieve the symptoms of dry skin rapidly. One should also look for ingredients such as niacinamide and allantoin which help in the long-term improvement in the integrity of the lipid barrier.
Humectants: These materials typically bind large amounts of water to infuse the skin with hydration. Look for materials such as glycerin, hyaluronic acid and other biopolysaccharides, pentylene glycol, trehalose, xylitol, ectoin, sodium lactate and pyrrolidone carboxylic acid.
Occlusive Agents: Materials such as dimethicone, lanolin, cross-linked hyaluronic acid and shea butter create a protective film on the skin's surface to block the transmission of water from the skin to the surrounding environment thereby allowing water to build up in the skin.
In the winter, stay away from harsh cleansers and products that contain strong emulsifier because these can exasperate a dry skin condition.
Harsh winter weather can damage your skin more than any other time of year. Watch as Dr. Oz explains in this video why protecting your skin in winter is just as important as it is in summer.
If your skin is ultra-dry during winter months, consider buying a humidifier for your home or bedroom to add extra moisture to the air. Also, bathe every other day to retain the skin's natural oils. Avoid steamy baths or showers that strip the skin's oily layer. Avoid using over-efficient skin cleansers which strip the skin of its natural oils (sebum).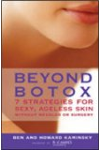 Continue Learning about Skin Disorders