Histamine stimulates the production of stomach acids, and allergists have found that blocking its production may be helpful in hives. Oddly enough, on its face, this action of antihistamines is unconnected to the allergy-related action of the drugs. A class of drugs called histamine receptor antagonists, or H2 blockers, works by blocking the histamine receptors on the acid producing cells in the stomach, stopping one of the mechanisms by which acid is secreted. The old anti-ulcer medication Tagamet or even small doses of the antidepressant doxepin have this effect on acid production, which can make them useful for hives. Doxepin also has an anti-allergic, antihistaminic action. A leukotriene blocker such as Singulair, although not approved by the U.S. Food and Drug Administration (FDA) for the treatment of urticaria, may help.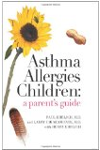 More About this Book
Asthma Allergies Children: A Parent's Guide
Asthma and allergies are at epidemic proportions. It doesn't have to be that way. Two experienced pediatric allergists tell everything a conscientious parent needs to know about these conditions,...
Continue Learning about Skin Disorders