The foods most commonly associated with triggering hives are milk, eggs, chicken, cured meat, alcoholic beverages, cheese, chocolate, citrus fruits, shellfish, and nuts. Food additives that trigger hives include colorants (azo dyes), flavorings (salicylates), artificial sweeteners (aspartame), preservatives (benzoates, nitrites, and sorbic acid), antioxidants (hydroxytoluene, sulfite, and gallate), and emulsifiers/stabilizers (polysorbates and vegetable gums).
Numerous clinical studies demonstrate that diets that are free of food allergens and/or food additives typically produce significant reductions in roughly 50 to 75 percent of people with chronic hives. The best dietary recommendation appears to be an allergy elimination diet or, at the very least, a diet that excludes all common food allergens and all food additives. The strictest allergy elimination diet allows only water, lamb, rice, pears, and most vegetables. The individual stays on this limited diet for at least one week. If the hives are related to food allergy or food additives, they will typically disappear by the fifth or sixth day of the diet. After one week, individual foods are reintroduced at a rate of one new food every two days. Reintroduction of sensitive foods will typically produce more severe or recognizable hives than before.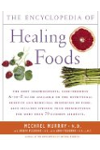 More About this Book
Encyclopedia of Healing Foods
From the bestselling authors of The Encyclopedia of Natural Medicine, the most comprehensive and practical guide available to the nutritional benefits and medicinal properties of virtually everything...
Continue Learning about Skin Disorders