Cheilitis has different affects on different groups of people depending on the type of the cheilitis. With actinic cheilitis, men have a higher risk of developing the condition because women are more likely to apply lip balm that contains sunscreen. This sunscreen protects their lips from the harmful ultraviolet rays that cause actinic cheilitis. With angular cheilitis, elderly people are more susceptible than younger people because they make more use out of dentures. Infections of allergic reactions to denture materials are some of the main causes of angular cheilitis. Young women are more susceptible to exfoliative cheilitis because women tend to be more emotional with higher stress levels, which cause them to bite or pick their lips. These actions can easily lead to an outbreak of exfoliative cheilitis.
Continue Learning about Skin Disorders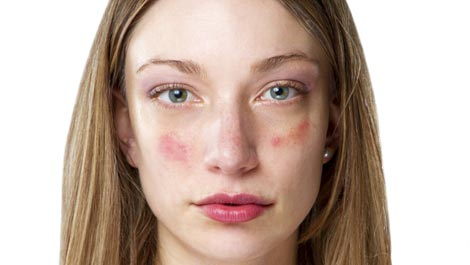 Skin disorders affect people of all ages. Rashes, cysts, breakouts, redness and blisters all can be symptoms of conditions as varied as hives, rosacea, psoriasis, eczema and acne. Talk to your doctor or a dermatologist about any l...
asting symptoms to find the appropriate treatment. A doctor also can recommend the proper therapy for conditions like brown spots, spider veins, and fungal infections.
More