Skin tags (common growths that can appear on any area of the body) can indeed be a nuisance. They may become irritated by clothing rubbing against them, and they may be unsightly.

I would not recommend using herbal/chemical products for removal. They would likely result only in irritation of the skin tags.

An old treatment was to tie a thread around the base of the skin tag and let the tag eventually fall off. I would not recommend this, either. It takes awhile for the tag to drop off, and in the meantime it is painful and unsightly.

The best solution is to have skin tags removed surgically by a doctor. Careful, sterile procedure will reduce the risk of infection and excessive scarring. Unfortunately, skin tag removal is not covered by most health insurance policies.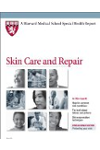 More About this Book
Harvard Medical School Skin Care and Repair
Where can you get authorotative advice on skin care? There's plenty of advice out there on TV, the internet and in the aisles of stores peddling skin care products. Despite the abundance of products...
Continue Learning about Skin Disorders