Yes, cold weather can lead to dry, cracked lips. But cracked lips can also come from licking or biting lips, medications, substances that come in contact with lips, and certain medical conditions.

If cracked lips do not clear up with Vaseline or unscented Chapstick, make sure that your child does not have a habit of licking or biting his lips.

Certain foods may irritate lips and lead to chapping. A child may be sensitive to red coloring (or other colors) in popsicles or fruit drinks, certain toothpastes, or certain medications. Eating candy can lead to drooling and excess saliva. This can lead to dry, irritated lips.

Try to think what comes in contact with your child's lips. This will help find the problem and stop any suspected activity.

If the problem does not clear up with Vaseline, unscented Chapstick, or over-the-counter hydrocortisone, take your child to his pediatrician. A vitamin deficiency and other medical conditions can also lead to persistent chapped lips.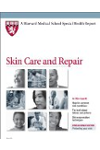 More About this Book
Harvard Medical School Skin Care and Repair
Where can you get authorotative advice on skin care? There's plenty of advice out there on TV, the internet and in the aisles of stores peddling skin care products. Despite the abundance of products...
Continue Learning about Skin Disorders