Tiny bright red spots on your skin that sometimes grow to maybe the size of a pencil eraser may be cherry hemangiomas, or cherries, for short. These are super common across all races, but most obvious in light-skinned people. You may get more as you age.

They are inherited in an autosomal dominant pattern, which simple means if you've got 'em, you are going to pass them on to your kids every time. They used to go by an awful name -- senile hemangiomas. Glad we're now more politically correct on this one!

Cherries are formed by a proliferation of tiny blood vessels. If you run over one with your razor as you are shaving, you can expect some significant bleeding, so be careful.

Happily, though, that is the worst thing these guys do. Cherries do not turn into cancers or cause any other issues beyond cosmetic.

Of course, not all bright red spots on your skin are cherry hemangiomas, so check with your doctor if you are concerned.
Continue Learning about Skin Disorders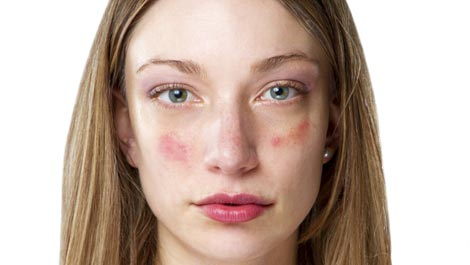 Skin disorders affect people of all ages. Rashes, cysts, breakouts, redness and blisters all can be symptoms of conditions as varied as hives, rosacea, psoriasis, eczema and acne. Talk to your doctor or a dermatologist about any l...
asting symptoms to find the appropriate treatment. A doctor also can recommend the proper therapy for conditions like brown spots, spider veins, and fungal infections.
More