If you have sensitive skin, your dermatologist might suggest that you wash your face with a mild cleanser free of fragrances, soap, or alcohol. Ingredients such as green tea, aloe, and chamomile can be beneficial for sensitive skin, but, in general, less is more when it comes to ingredients for sensitive-skin cleansers. If your skin is sensitive, washing your face once a day should suffice. Avoid cleansers containing acids, like glycolic or salicylic acid, which can irritate sensitive skin.
People with sensitive skin run the gamut from those with a fair-skinned, delicate complexion, to someone with rosacea or with dark skin that is prone to hyperpigmentation. Essentially, when dealing with skin that gets red and irritated easily, burns quickly in the sun, or is susceptible to dark spots, you must use care and caution. Minimize your use of products to the point of applying nearly nothing to your skin. A less-of-everything routine doesn't tamper with the barrier function of the stratum corneum. As with dry skin, don't wash it more than once per day, and use gentle formulations (cleansing lotions or milks) with the mildest surfactants. Gels and oil-free washes usually clean away too much oil, but a creamier cleanser will replenish the healthy lipids on the surface. (Most people with sensitive skin tend to have rosacea or dryness too.) Occlusive emollients in a cleanser or moisturizer help protect sensitive skin by creating a stronger surface barrier. It's also important to look for anti-inflammatory ingredients, such as soy, allantoin, aloe vera, or chamomile. These will soothe the skin and calm redness.
Patients with even slightly sensitive skin need to always patch test a new product before using it on the face. (This goes for any new cleanser, sunscreen, moisturizer, makeup, scrub, anything at all.) Remember they could interact with each other and irritate your skin. Try it out on your inner wrist or forearm, since the skin there is thin and more similar to facial skin. And be patient: you need to test a product for four days in a row. This way, if the product doesn't trigger a reaction immediately, you'll be able to see if repeated applications cause irritation. It is not unusual to have a delayed allergic reaction that may not show up for weeks. Also, realize that your cheeks have a higher concentration of blood vessels, so you might react differently there no matter how much pretesting you do. The creases around the nose and eyes are particularly sensitive because products accumulate there in higher concentrations.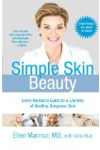 Continue Learning about Skin Cleansing