Besides Pilates, the best thing you can do for your bottom is to install a bidet. Why? If you accidentally got caca all over your hand, would you wash it off or wipe it off with dry toilet paper? Exactly. You'd run over to the sink faster than a sprinter in an Olympic qualifier.

So why do we wipe ourselves with dry, sandpaper-like toilet paper after we go to the bathroom? It's not the right cleaning system because it's irritating and increases the likelihood of getting hemorrhoids.

You can't remodel your bathroom simply to install a bidet? Or it seems a tad too Parisian for your décor? You can get the same effect by wetting toilet paper in the sink before using it or using moisturized baby wipes.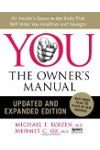 Continue Learning about Skin Cleansing

When it comes to cleansing your skin, not all parts of your body are created equal. Your face needs different care than your feet. Depending on your skin type and even the time of year, you may need a different body or facial clea...
anser to remove dirt and prevent breakouts. Find out how to choose a skin cleanser that removes excess oil while preserving the skin's delicate pH balance and natural moisturizers. Learn the best ways to cleanse your skin, from bar soaps to exfoliaters, with expert advice from Sharecare.
More