Besides Pilates, the best thing you can do for your bottom is to install a bidet. Why? If you accidentally got caca all over your hand, would you wash it off or wipe it off with dry toilet paper? Exactly. You'd run over to the sink faster than a sprinter in an Olympic qualifier.

So why do we wipe ourselves with dry, sandpaper-like toilet paper after we go to the bathroom? It's not the right cleaning system because it's irritating and increases the likelihood of getting hemorrhoids.

You can't remodel your bathroom simply to install a bidet? Or it seems a tad too Parisian for your décor? You can get the same effect by wetting toilet paper in the sink before using it or using moisturized baby wipes.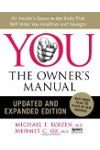 Continue Learning about Skin Cleansing