It is possible for skin cancer to come back after treatment, depending on the type of cancer. Skin cancer that returns after treatment is called recurrent cancer. Recurrent skin cancer is more likely if the cancer had already advanced to a later stage when it was first treated. Some types of skin cancer are more likely to come back than others, but it is important for everyone who has been treated for skin cancer to continue checking his or her skin and to return for regular doctors' visits to make sure the cancer has not come back or spread.
Continue Learning about Skin Cancer Treatment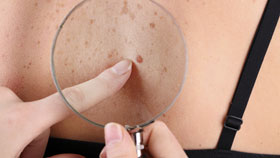 Treatment for skin cancer depends on the type of skin cancer you have and its stage. When caught early, most skin cancers can be easily treated as an outpatient procedure with a very high cure rate. Treatments include surgery, che...
motherapy (as a topical cream or oral medication) and radiation.
More