Stretch marks, or "striae" are common on skin that is subjected to continuous stretching, such as during the growth spurt in adolescence, during pregnancy, during bodybuilding, or when one is overweight. Long-term use of steroids (oral or topical) can also lead to striae. And some people may inherit a tendency to develop these unsightly stretch marks.

The skin stretches to accommodate growing tissues underneath. This can result in damage of the collagen and elastin. These are the support structures of skin. The pink/purple streaks of striae are usually not a significant medical problem, but they can be a cosmetic concern.

There is no best treatment for stretch marks. Some people have found Retin A or vitamin E creams helpful, although skin irritation is a risk. Pulse dye laser treatment has been helpful in severe cases.

Over time, the marks on your teenager will fade in color and be less noticeable as her growth spurt subsides. In the meantime, try to make sure your teen is not overeating to add to her weight gain.

An unscented moisturizer can be helpful. Sun protection is important, too, to avoid further damage to skin. In severe cases, it is important to see a doctor because certain medical conditions can lead to the development of striae.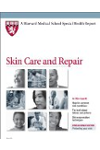 More About this Book
Harvard Medical School Skin Care and Repair
Where can you get authorotative advice on skin care? There's plenty of advice out there on TV, the internet and in the aisles of stores peddling skin care products. Despite the abundance of products...
Continue Learning about Skin Care