It is important to note that the treatment of a sunburn will not reverse skin-cell damage. Once it's happened, it's happened. Therefore, treatment is mainly to help you feel more comfortable while the sting of a sunburn lessens with time.
Keep in mind that it will take a few days for a sunburn to subside. During this time, you can manage the symptoms of a sunburn with a few simple measures.
Stay out of the sun. You don't want to make your sunburn worse.
Soak in coldwater, apply cool washcloths to your skin, and/or rub a little aloe vera or moisturizer on the affected areas.
If you have pain, take ibuprofen as directed.
If you have blisters, cover them with a bandage. Don't aggravate them.
If the sunburn is worthy of medical attention, a doctor might give you other nonsteroidal anti-inflammatory drugs and/or a corticosteroid to help with the healing process.
Sunburn is initially treated by getting the sunburned person out of the sun into a cool place and providing water to drink. Nonsteroidal anti-inflammatory drugs such as ibuprofen may help reduce headache, fever and pain. Moisturizing creams, aloe vera and diphenhydramine can be soothing. In severe cases, a doctor may prescribe a strong painkiller. Talk to your doctor or dermatologist for more information.
Use a sunscreen and wear protective clothing to safeguard your skin from the sun's harmful rays.
To help treat a sunburn:
Take a cool shower or bath or put cold, wet cloths on the burn.
Treat pain. Try acetaminophen (like Tylenol) or ibuprofen (Advil). Do not give aspirin to a child or teenager—it increases risk for a serious problem called Reye's syndrome.
Put moisturizing lotion or gel on the burn. Aloe vera gel is a good one you can buy at the store. But do not use lotion or gel if the skin is blistering. Also, do not use products that contain benzocaine, lidocaine or petroleum (like Vaseline).
Keep the sunburned area cool by applying a cold, damp compress. To help prevent the skin from peeling, keep the area moist by applying aloe or moisturizing cream. Avoid using any product that contains alcohol. Do not pop blisters, as this may cause an infection. Over-the-counter pain relievers such as Advil or Motrin may decrease pain.
This answer provided for NATA by the Southern Connecticut State University Athletic Training Education Program.
Treatment options for sunburn include moisturizing lotion with or without a topical anesthetic, aloe vera gel, oral nonsteroidal anti-inflammatory drugs (NSAIDs), such as ibuprofen, and if somewhat more severe, topical steroids. However, it is best to prevent sunburns before getting them by using sunscreen.
Care for a radiation (sun) burn as you would for any thermal (heat) burn. Always cool the burn and protect the area from further damage by keeping the person away from the source of the burn.
If you do get mild sunburn, it is important to take healing measures immediately. Even though over-the-counter products containing topical anesthetics such as benzocaine are touted as being effective for sunburn, there is little scientific evidence on their effectiveness.
To treat the painful symptoms, use cold compresses, nonsteroidal anti-inflammatory drugs (NSAIDs), acetaminophen, antihistamines and low-potency topical corticosteroids. Moisturize to limit inflammation and peeling.
Even if there is a sunburn, continue to follow the sun preventive strategies by wearing sunscreen daily, avoiding UV exposure, wearing wide-brimmed hats, sunglasses and loose-fitting clothes with long sleeves and long pants.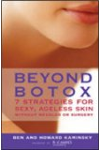 Continue Learning about Skin Care