Wet nasal passages do everything they're supposed to do better than dry ones. I recommend that you irrigate your child's nasal passages with saline solutions with high concentrations of salt, 2% to 3%, because the salt draws moisture into the mucous membranes from surrounding tissues by osmosis, thus hastening the restoration of the membranes' natural irrigating function. I was given the recipe for this hypertonic salt solution by two ENT (ear, nose, and throat) specialists and is as follows: one quart of tap water, two to three heaping teaspoons of sea salt or kosher salt (both have no additives), and one level teaspoon of baking soda (such as Arm & Hammer).

Marketed as SaltAire and Ocean among other names, saline solutions come ready-made in a plastic squeeze bottle for easy inhalation of the solution. You may buy a similar bottle or purchase a 30 cc bulb syringe for administering your own low-cost home brew.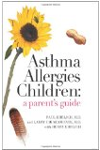 More About this Book
Asthma Allergies Children: A Parent's Guide
Asthma and allergies are at epidemic proportions. It doesn't have to be that way. Two experienced pediatric allergists tell everything a conscientious parent needs to know about these conditions,...
Continue Learning about Sinusitis