How do I manage my sickle cell anemia on a daily basis?
Sickle cell anemia can be managed by avoiding any activities that may trigger an emergency, such as illnesses, any high-altitude activities, or strenuous exercise. You can also manage your stress level, avoid cholesterol, and drink a lot of water to help prevent blood clots and other complications. Over the counter medications can also be used to control the pain caused by compression of smaller blood vessels. Folic acid supplements can also help your bone marrow create red blood cells.
Continue Learning about Sickle Cell Disease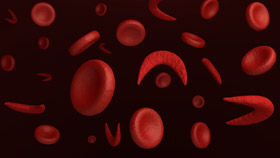 Sickle cell disease (SCD) is a group of inherited disorders in which hemoglobin, the protein in red blood cells that carries oxygen, becomes hard and sticky and looks like a sickle. The symptoms of sickle cell disease include abdo...
minal pain, bone pain, shortness of breath, delayed growth, fatigue, fever and chest pain. A bone marrow transplant may cure the disease; otherwise, treatment focuses on symptom management.
More