Getting the vaccines together is safe and you can get both at the pharmacy.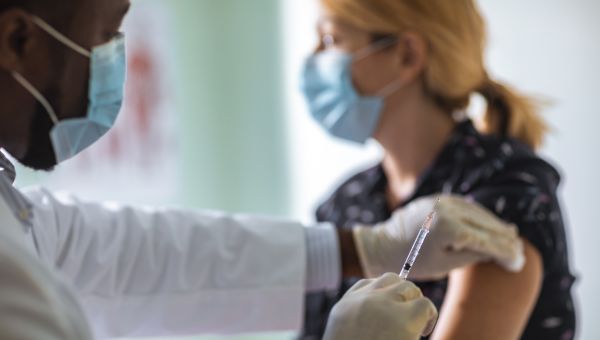 In the United States and other northern hemisphere countries, flu season refers to the fall and winter months, when there is a major increase in the transmission of influenza viruses. While flu seasons vary in a number of different ways—duration, severity, and the timing of peak months, to name a few—the fall and winter months typically see a major uptick in illnesses, hospitalizations, and fatalities caused by influenza.
As the world is still coping with the coronavirus pandemic, the 2020-2021 flu season has been a major focus of public health officials. One of the concerns is that the U.S. will be caught in a "twin-demic"—a flu season piled on top of the ongoing coronavirus pandemic. Public health experts have urged people to get their annual influenza vaccine, commonly called the "flu shot." Some states, schools, and universities have even mandated that most students receive the vaccine in an effort to prevent the spread of influenza. The flu shot is already mandatory for healthcare workers in many states and organizations.
People who are aged 50 or older should consider getting another vaccine when they receive their flu shot—the shingles vaccine.
Here, we look at some common questions about the vaccines.
What is shingles?
Shingles (also known as herpes zoster) is a painful, blistering rash that is caused by the same virus that causes chickenpox:
Anyone who has had chickenpox is already carrying this virus and is at risk for shingles.
A person's risk of having shingles increases as they age.
About 4 out of every 1,000 people in the U.S. population have shingles in a given year. That number is 1 in 100 for people over the age of 60.
Between 10 and 18 percent of people who get shingles experience postherpetic neuralgia (PHN), nerve pain that persists after the rash resolves and can last months, or in some cases, years.
Having shingles increases a person's risk of heart attack and stroke.
NOTE: There are currently two shingles vaccines approved in the U.S. The information below refers to the shingles vaccine that is preferred by the Centers for Disease Control and Prevention and is more widely used. The other vaccine has been discontinued, but may still be available in some pharmacies until November 18, 2020. For more information about the shingles vaccine, talk to your healthcare provider or pharmacist.
Are the vaccines safe to get at the same time?
Getting the two vaccines at the same time is safe and has not been associated with any adverse effects. Receiving the vaccines together has not been shown to impact the effectiveness of either vaccine. If you have any concerns about any vaccine or medication, talk to your healthcare provider—your HCP is your best source of information about your health.
Can you get a viral infection from the vaccines?
Both the flu shot and the preferred shingles vaccine are made using inactivated viruses—the shingles vaccine cannot give you shingles and the flu shot cannot give you the flu. You can ask your HCP or pharmacist for more information about safety and side effects.
Where can I get these vaccines?
You can always make an appointment with your healthcare provider, or you can receive the vaccines at a pharmacy. Many pharmacies allow you to book an appointment online.
How many doses do I need?
For adults, the annual influenza vaccine is typically a single dose, however the dosage used may vary depending on a person's age. The preferred shingles vaccine is a series of two doses—the second dose is given 2 to 6 months after the first. Getting the second dose is very important, as it provides the most protection against shingles. A person can receive the flu shot at the same time as either dose of the shingles vaccine.
Medically reviewed in September 2020.
Sources:
Centers for Disease Control and Prevention. "The Flu Season."
Centers for Disease Control and Prevention. "Influenza Prevention: Information for Travelers."
Johns Hopkins Medicine. "Mandatory Flu Vaccination."
Centers for Disease Control and Prevention. "Frequently Asked Questions about Estimated Flu Burden."
Abigail Constantino. "Johns Hopkins health experts emphasize importance of flu shots, warn of flu, coronavirus 'twin-demic.'" wtopnews, September 22, 2020.
Immunization Action Coalition. "Influenza Vaccination Honor Roll."
Centers for Disease Control and Prevention. "Shingles Vaccination."
MedlinePlus. "Shingles."
Centers for Disease Control and Prevention. "Shingles (Herpes Zoster) Clinical Overview."
Centers for Disease Control and Prevention. "Shingles (Herpes Zoster) Complications of Shingles."
American College of Cardiology. "Shingles Increases Risk of Heart Attack, Stroke."
Ping-Hsun Wu, Yun-Shiuan Chuang and Yi-Ting Lin. "Does Herpes Zoster Increase the Risk of Stroke and Myocardial Infarction? A Comprehensive Review." Journal of Clinical Medicine, 2019. Vol. 8, No. 4.
Centers for Disease Control and Prevention. "Herpes Zoster Vaccination."
American Pharmacists Association. "Ask The Experts: Giving Shingrix to a patient also receiving an influenza vaccine."
Elsevier Patient Education. "Recombinant Zoster (Shingles) Vaccine: What You Need to Know." 2020 Elsevier, Inc.
Centers for Disease Control and Prevention. "Misconceptions about Seasonal Flu and Flu Vaccines."
Gold Standard Drug Database. "Drug Monograph: Influenza Virus Vaccine."
Centers for Disease Control and Prevention. "Frequently Asked Questions About Shingrix."