What's an exercise for preventing shin splints?
Many people experience shin splits and believe me, they are not a pleasant feeling. The front of your shin will feel slight pain each stride you take. Some of the reasoning for this will be:
Worn shoes. Consider purchasing a new pair
Weak calf muscles. Do some calf raises and be sure to stretch!
One of the best exercises is mentioned above. Get on an uneven surface such as a stair. Have the balls of your feet on the stair and heels hanging off. Next, lift your body up and return to start. This exercise is very simple but effective and helpful to prevent shin splints.
Heel step downs are a great exercise for preventing shin splints. Here's how:
1. Stand with your feet together and take a natural step forward.

2. As you heel strikes the floor in front of you, prevent your foot from flexing down as you transfer your weight forward. This forces your anterior tibialis muscles to contract as they lengthen and mimics the foot action during running.

3. Return your foot to the starting position, and repeat on the other side.

4. Perform ten of these step downs on each side.

5. When you have mastered this with short strides, you can increase your stride length to make the exercise more difficult.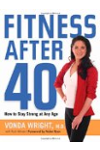 More About this Book
Fitness After 40: How to Stay Strong at Any Age
It's one of the undeniable facts of life. After we reach a certain age, our bodies change. No matter how fit we may have been at 20, we're very different people after 40. But growing older doesn't...
Continue Learning about Shin Splints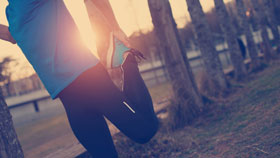 A number of things cause shin splints, including worn-out shoes or running on a hard surface. Anterior shin splints (in the front of the leg) are often caused by a new activity, such as jogging or sprinting. Posterior shin splints ...
(in the lower, back part of the leg) are caused by muscle imbalances, like flat feet. Treatment includes icing the area and taking anti-inflammatory medication. Stretching and wearing proper foot wear can help prevent shin splints.
More