A common barrier to all orgasm challenges is mindfulness, paying attention to what's happening in your body to the exclusion of anything else. You just want to think about sex. Attention is even more difficult during simultaneous orgasms because you have to pay attention to both your own and your partner's arousal. You have to pay all the necessary attention to yourself to get yourself to orgasm, and you have to monitor your partner's arousal, to get the timing right. The people who find simultaneous orgasm easiest are probably people who find their partner's arousal level to be highly stimulating. Fortunately, this is learnable. Practice paying attention to your partner's arousal level and experiencing it as a part of your own arousal. Imagine what it might feel like to be in his or her skin, what he or she must be feeling. Allow your partner's arousal to feed and merge with your own arousal. At this point, we get into the psychological part of it. At this point, you begin to shed the "my body/his body" dichotomy. At this point, you begin experiencing his or her skin as your skin -- you feel both the firm softness of your partner's abdomen under your hand and the warm pressure of your hand as he or she is experiencing it.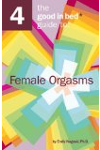 More About this Book
The Good in Bed Guide to Female Orgasms
Want to learn how to achieve 487 different kinds of orgasms?If so, you're reading the wrong guidebook. Despite what many in the media would have you believe, there's no such thing as a rainbow...
Continue Learning about Orgasm