The majority of women out there are unable to orgasm through vaginal stimulation alone. While men can become aroused almost instantly, it takes women about 20 minutes before their brain is really in the game. Which is why we always recommend pairing plain old intercourse with one or two other forms of stimulation: clitoral stimulation… Grafenberg spot (G-spot) stimulation… All of those pleasurable sensations thrown together could prove to be more than enough to push you over the brink.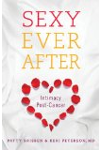 More About this Book
Sexy Ever After: Intimacy Post-Cancer
Recent studies show that 40-100 percent of men and women who have been treated for cancer have experienced some level of sexual dysfunction. Sexy Ever After: Intimacy Post-Cancer will help you...
Continue Learning about Orgasm