Men experience a postejaculatory refractory period, when their bodies do not respond to sexual stimulation and ejaculation is impossible. At ejaculation, a man's body throws a massive, systemic shut-off switch, which effectively puts his sexuality in park, leans back the seat, and turns relaxing music on the radio. The hypothesized reason for this phenomenon is that it gives a man's body an opportunity to begin replenishing the sperm stores that were spent in ejaculation. Since women don't ejaculate (at least not in the same way men do), no refraction happens. It's important to note that ejaculation and orgasm are two distinct functions; even though most of the time they're very closely coupled, it is possible to decouple them and experience one without the other. A man who orgasms without ejaculating can maintain his erection, continue stimulation, and even have more orgasms. (Blocking ejaculation requires a lot of practice.) Lack of refraction is a likely reason why multiple and extended orgasms are easier for women than for men.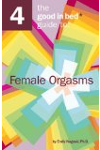 More About this Book
The Good in Bed Guide to Female Orgasms
Want to learn how to achieve 487 different kinds of orgasms?If so, you're reading the wrong guidebook. Despite what many in the media would have you believe, there's no such thing as a rainbow...
Continue Learning about Orgasm