Until quite recent years, doctors believed that only a tiny minority of women could have multiple orgasms. But research by the Medical Information Service and others has shown that in fact, the majority of females can have a series of orgasms if they are happy and relaxed in the relationship and it the partner is willing to stimulate them. The ability to have multiple orgasms increases with age. It's unusual at the age of 20, but many women in their 40s, 50s, and 60s are able to achieve multiple orgasms.
Overstimulation, for one. What I mean is, you can rub your arm so that it feels numb and irritated, and then, with the passage of time, the numbness goes away. It's the same with sexual parts. You can stimulate the clit so much that it needs a break. Fortunately, we're sexually adaptive creatures, you can stimulate the G-spot, the anus, the breasts, or whatever other part generates sexual tension for you under sexy circumstances.
Also, for many women, orgasm is hard work. It takes concentration and effort and sometimes you're just beat afterward. Getting the energy to have another orgasm might just be not worth the effort. Don't forget -- even having just one orgasm is great! Multiple, extended, and all the other variations on orgasm are totally unnecessary to having a happy, healthy, fully functional sex life. It's entertainment -- a hobby, like going dancing or putting together a model airplane. Enriching, sure, but necessary for your health? Nah.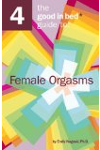 More About this Book
The Good in Bed Guide to Female Orgasms
Want to learn how to achieve 487 different kinds of orgasms?If so, you're reading the wrong guidebook. Despite what many in the media would have you believe, there's no such thing as a rainbow...
Continue Learning about Orgasm