Virtually all heterosexual men are reliably orgasmic from penile-vaginal intercourse, while only about a quarter to a third of women are. Another third of women are sometimes orgasmic from penetration, and the remaining third of women are never or almost never orgasmic from penetration. These results have been replicated over and over, in the lab and by self-report. And yet more than 90% of women can have orgasms by some modality -- manual or oral stimulation or vibrators, or even just from muscle tension and imagination. Still, men and women alike wonder if a woman might be dysfunctional if she never has orgasms from penetration. Penetration may be pleasurable for both men and women, but it's not your best bet for women's orgasm.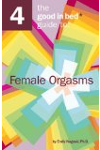 More About this Book
The Good in Bed Guide to Female Orgasms
Want to learn how to achieve 487 different kinds of orgasms?If so, you're reading the wrong guidebook. Despite what many in the media would have you believe, there's no such thing as a rainbow...
Continue Learning about Orgasm