A woman's orgasm happens when you cross a threshold of tension, and in general, the more momentum you have when you cross it, the faster you finish. You can generate a bigger orgasm by slowing down your approach. Slow approach, less momentum -- so instead of flying over the threshold, you can float up to it and hover there. Imagine driving a manual-transmission car up a hill so that you stop right at the top of the hill, and don't slide back down or slip over the edge. You just come to rest delicately at the top.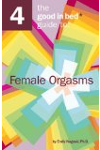 More About this Book
The Good in Bed Guide to Female Orgasms
Want to learn how to achieve 487 different kinds of orgasms?If so, you're reading the wrong guidebook. Despite what many in the media would have you believe, there's no such thing as a rainbow...
Continue Learning about Orgasm