Exercising your pubococcygeus (PC) muscles can intensify your orgasms. So practice your Kegels regularly. Three times a day, flex and relax your PC muscles 25 times. Squeeze the muscles, hold for a few seconds, and then relax. And push yourself to have a more productive workout by using Ben-Wa balls. Like a personal trainer, Ben-Wa Balls -- which you insert into your vagina -- help ensure that you're doing your exercises correctly. In fact, the more frequently you use them, the more frequent and intense your orgasms become.

How else will this improve sex? If you flex your PC muscles during intercourse, you could end up stimulating your Grafenberg spot (G-spot). It will also increase friction, which can feel pretty darn good, too. What better motivation can there be to exercise!?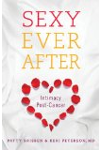 More About this Book
Sexy Ever After: Intimacy Post-Cancer
Recent studies show that 40-100 percent of men and women who have been treated for cancer have experienced some level of sexual dysfunction. Sexy Ever After: Intimacy Post-Cancer will help you...
Continue Learning about Orgasm