Kegel (or pelvic floor) exercises help intensify the feeling of orgasm because they strengthen/tone the muscles that contract during orgasm. Watch me explain how to do Kegel exercises properly.
Kegel exercises are exercises where you squeeze your urethral sphincter, the muscle that you use to stop yourself from peeing. There are all kinds of regimens about how often and how long to do these, but the basic rule is "the more, the better." That means more exercises, more often, held for longer and longer periods of time. At first, it might be just a second or two, but you can build up to quite a long tension. Strengthening the PC muscles will increase the intensity of the orgasmic experience and give you more control over your arousal level.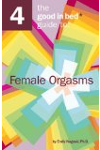 More About this Book
The Good in Bed Guide to Female Orgasms
Want to learn how to achieve 487 different kinds of orgasms?If so, you're reading the wrong guidebook. Despite what many in the media would have you believe, there's no such thing as a rainbow...
Kegel exercises are moves to help strengthen the pelvic floor. In this video, Elizabeth Poynor, MD, PhD, a gynecologist-oncologist in New York City, explains that Kegels can help improve orgasms and alleviate pelvic pain during sex.
Continue Learning about Orgasm