Not all women are able to ejaculate, while some women ejaculate every time they have an orgasm. No one really knows why either of these things might be true or how to change it. If you're not already an ejaculator but you'd like to try for it, G-spot stimulation is one way to do it. Allow a high level of arousal to build up over a long time - say, an hour. Following the theory that a woman's urethral sponge is similar to a man's prostate, what you're doing is allowing fluid to build up in the urethral sponge, which will be expelled with orgasm. Some women have described pressing on the G-spot at orgasm and thus triggering ejaculation. That's another trick to try.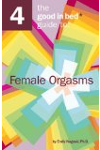 More About this Book
The Good in Bed Guide to Female Orgasms
Want to learn how to achieve 487 different kinds of orgasms?If so, you're reading the wrong guidebook. Despite what many in the media would have you believe, there's no such thing as a rainbow...
Continue Learning about Orgasm